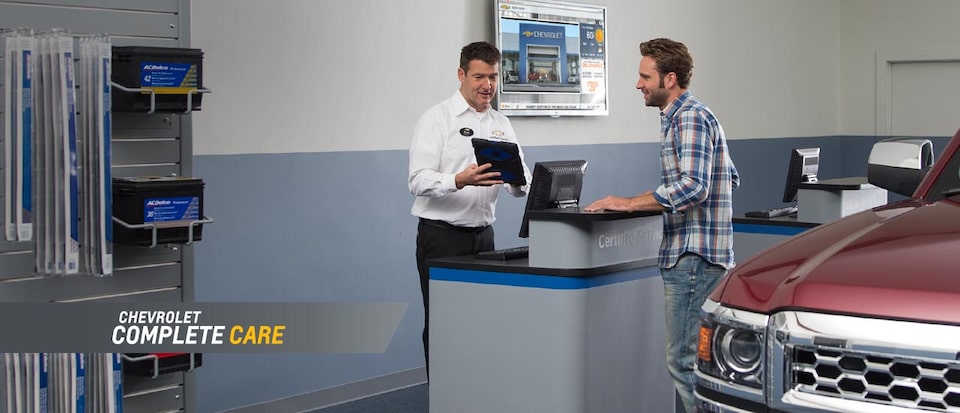 CHEVROLET SERVICE CENTER
As part of our Complete Care program, Chevrolet is proud to offer a service experience carefully designed to guarantee transparency and total peace-of-mind concerning all aspects of your vehicle's maintenance. Experienced, professional staff trained by Chevrolet and genuine Chevrolet parts ensure that the quality of our work is never compromised.
We provide you with a low cost of ownership by offering cost efficiencies and competitive pricing. In addition, you will always be made aware of the cost of any scheduled maintenance or menu-priced item thanks to transparent cost estimates, based on clearly communicated prices.
SUPERIOR CUSTOMER SERVICE EXPERIENCE
The Complete Customer Service Experience
With Chevrolet Complete Care, we deliver superior service from beginning to end. Prior to any work commencing, a dedicated Service Advisor explains the work to be done and ensures all your requirements will be met. During the service, a Service Advisor is always on-hand to provide progress updates and clear completion times. The Service Advisor will even follow up with you to confirm your satisfaction and find ways to continually improve our service.
WHEN TO SERVICE
Your Chevrolet is designed and tested to provide you with years of worry-free driving. But every car needs a check-up from time to time to keep it in top condition. Find out when to schedule your next service.
Read More
CAR MANUALS
Your owner's manual is located in your vehicle glove compartment. If you would like an electronic copy, you can download one below.
Download Here
OWNERS' TIPS
Your Chevrolet was designed to last, but there are several things you can do to keep it running at its best. Click below to find helpful tips and guidelines for keeping your vehicle in optimal condition.
Owner's Tips

AUTHORIZED SERVICE OPERATION
As part of Chevrolet Complete Care, your vehicle's regular maintenance is performed at a Chevrolet service operation. This guarantees that your vehicle is repaired with genuine Chevrolet parts covered by a Chevrolet factory warranty. And you can rest assured that repairs are being performed by trained technicians who know your Chevrolet vehicle best.
When you take your vehicle to another, unauthorized repair shop, you may not be guaranteed that genuine Chevrolet parts will be used and your vehicle's warranty could be affected. Plus, other repair shops may use outdated equipment and employ substandard quality controls. Chevrolet dealers offer you complete peace of mind that others can't.

GENUINE PARTS
High-quality genuine Chevrolet Parts are original equipment parts specifically designed, made and tested to help you keep your Chevrolet vehicle running at peak performance. Your Chevrolet trained technicians know precisely which parts your Chevrolet vehicle needs — rely on us to maintain your Chevrolet with the same parts used to build it.